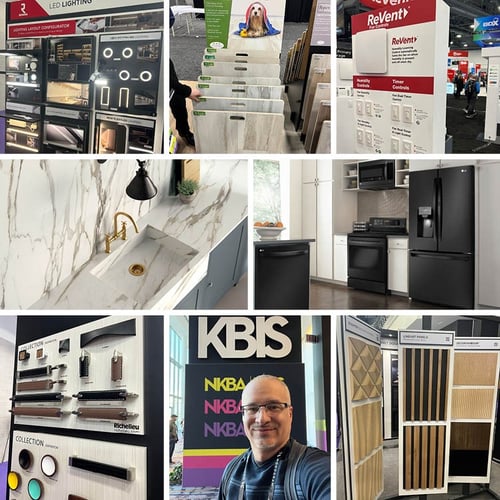 February is an exciting time for those of us in the remodeling industry because it's when many new products debut and hot trends for the year are determined. We recently attended the largest kitchen & bath show in the U.S. and we're starting a two-part series on the hottest products and trends for 2023. This month it's all about the top seven interior items you need to know this year.
The evolution of smart home technology. The trend towards a fully connected home continues with new offerings in sleeker remote and wall-mounted controls. Gone are the days of the highly visible bookshelf, cube and/or wall & ceiling-mounted speakers with the advent of truly invisible nested speakers. Automated shade and lighting controls are becoming mainstream and not just for the ultra-wealthy. And of course, all of this new technology is compatible with major home connection technologies such as Google Home, Apple Home and Alexa.

LED lighting. LED technology continues to improve, especially in ribbon (tape) lighting. We are seeing lights that are capable of full-spectrum RGB (red, green and blue) and true whites along with improved app controls. And while dimming capabilities still can't quite match that of halogens/incandescents, the range has increased. There are even higher-end LEDs where you can set the color to change as you dim and others that follow the cadence of the sun (which can potentially improve your overall well-being).

Expanded flooring offerings. Luxury Resilient Vinyl Tile/Plank (LVT/P) remains the largest growing segment of flooring around the world. Companies are increasing their offerings and expanding their product lines. LVT/P includes waterproof and scratch-resistant properties which make it a product for just about anywhere in a home. We're also seeing a greater range of colors and finishes to mimic wood, stone, and tile. Wide planks in both vinyl and wood still remain the trend.

New cabinetry hardware. We were able to pick up and become dealers for some incredible hardware lines like Emtek, Richelieu, and Belwith Keeler. What we saw popular this year with all of them is two-tone metal offerings like black with stainless steel or black and brushed gold. One cabinet trend we're seeing is moving away from grays and blues and towards neutral tones and shades of green.

What's new in countertops? While the usual suspects (granite, quartz, and quartzite, etc.) are still among countertop lineups, porcelain is one of the newest options. With superior heat endurance, durability and hardness, low water absorption, UV light resistance, easy maintenance, and offerings in a variety of colors, porcelain should definitely be in the consideration set for an upcoming kitchen renovation.

New kitchen appliance finishes. It's not uncommon for refrigerators, stovetops, dishwashers, and ovens to receive minor updates year-over-year, especially as Bluetooth and Wi-Fi technologies continue to permeate our kitchens. The most notable trend we're seeing is more and more options in colors and finishes such as matte white/black, copper, black stainless, brushed brass, and two-tone. In addition, some luxury lines are offering custom color options.


Old school is back in vogue with wall decor. Accent walls made with wallpaper are trending right now along with decorative wall panels. These options create texture and add a completely new look to an existing powder room, dining or living room.
Coming in March: the scoop on this year's top exterior products and trends.
Having a variety of interior remodeling options can be daunting, especially as you're thinking through what would be best for your home. The great news is that you don't have to go it alone. By partnering with a design-build firm that's keeping up with the trends, technology, and styles, you can rest assured that you're getting solid advice on what and what not to choose for your upcoming project. Want to learn more about House to Home Solutions and see examples of our work? Check out our website or give us a call at 301-762-6621.