For home renovations, you have a choice of professionals and approaches to guide the transformation. Which is best for you?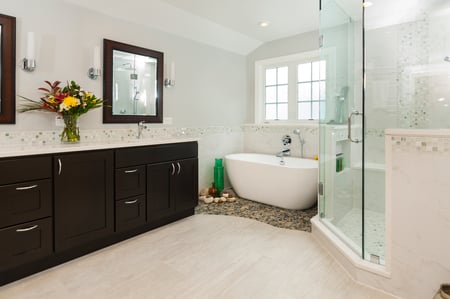 Architect-Driven Process
For Architect-Driven projects, an architect creates the overall concept and design layout that fits your lifestyle. Then, a designer helps select materials, fixtures, and finishes. Finally, a contractor builds the project.
What are the risks?
While the layout and design may be beautiful and functional, when the architect, designer, and construction team work separately, there is often poor coordination and higher costs. Many architects are one step removed from today's construction costs. Homeowners only discover the disconnect when they get contractor bids that substantially increase their budget.
Permits are another potential pitfall. Some architects obtain building permits when they finish their part of the design—before the homeowner and designer complete fixture and appliance layouts. Premature permits can lock you into the architect's layout or force you to pay the architect and county to modify the permitted plans.
Pro Tip: Have a completed design and a contractor before obtaining a building permit.
Design-Build Approach
Our Vision Builder™ Design-Build approach includes planning, design, and construction under one contract. It is ideal for most residential projects since the designers and construction team work together through the beginning stages of the project, with each bringing their expertise into the mix.
Design-Build is the idea of partnering the right team from the start, to help get to a completed project successfully and to provide the highest satisfaction to the homeowner.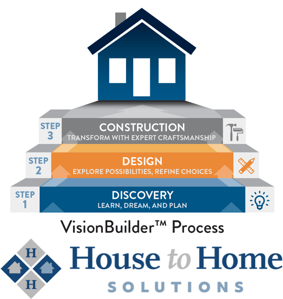 What are the benefits?
Getting everyone together early allows all team members to share their ideas for creative and innovative solutions, which can lead to faster project delivery and best cost value.
A Design-Build team is usually made up of professionals who have worked together before. They know each other's strengths and weaknesses and can build off that knowledge to make the process more streamlined and productive.
Pro Tip: Ensure the professionals are licensed by the states in which they practice
The Design-Build approach offers a single source of responsibility where one entity drives the flow of work through completion by using open/transparent communication. Also, your project is managed through one contract, which eliminates any potential problems that come with managing multiple contractors. There is a shared responsibility amongst team members for the design, budget, and schedule, which focuses directly on solving any issues as a unified front.
You can count on one team to manage the project from concept through design and construction. The team provides 3D renderings and assists with all material, fixture, and appliance selections. Guided by this integrated approach, the team collaborates with you to create a beautiful design that ensures the best functionality of your space, which will be enjoyable for years to come.
What's the bottom line?

The Design-Build approach makes the most of your budget and produces a transformation that fully realizes your dreams and desires.
Excited about your remodel? Call us today and get started! (301) 762-6621.