Spring is in the air! It's the time of year that homeowners' hearts and imaginations shift to the outdoors. With decks, screened-in porches, three-season rooms, patios, outdoor kitchens and bars, there are so many options for outdoor living and entertaining! What goes into creating the perfect outdoor space? When should you start your project?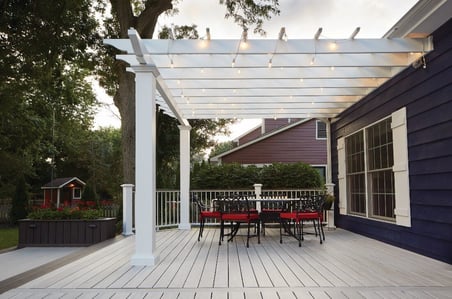 To enjoy your new or remodeled outdoor space this summer, start right away.
It takes time to design the space, process the permits and receive your selected building materials. Pandemic-related supply chain issues are still affecting project schedules. While deck, porch and patio materials don't have the same supply shortages as appliances, delays of four to eight weeks are common now.
Start with a beautiful design
To get started, meet with your design/build professionals to capture your vision of what the space could be. How many people will use the space at one time? What do you want to do there? How do you want people to feel? Together with your design team, identify any potential obstacles and explore the possibilities of what the space can be. Your final design should include a plan and budget for your project – and confirmation that you have the right team on your side.
Select materials that inspire
If you haven't done a renovation in a few years, you'll be delighted by the beautiful, durable materials that are available today. What colors do you love? Do you prefer a deck built from hardwood, pressure-treated wood or composite? Would concrete, brick, stones or gravel work best for your patio? What lighting do you need? Enjoy the process of pinpointing your tastes and preferences as you explore what's available. Expect your design team to expertly guide you through options that fit your design style, quality standards, budget and functional needs.
Allow time for the permits
For most projects, securing project permits is taking longer than it used to. Over the past couple of years, many permit applications were moved online and there is a shortage of permit processors and plan reviewers. Some permits are taking months. Even former same-day permits are taking two to six weeks. Ask your renovation partner about permits for your project, so you know what to expect.
Get ready to enjoy the great outdoors
Once the materials and permits are secured, your dream starts to come to life. Expect that your craftsmen will have respect for you and your home during the construction project. Your renovation team should set clear expectations for when the project will start and how long it will last.
When they're done, get ready to enjoy a new outdoor space that reflects your personality and needs. You'll have an outdoor space to create memories this year – and for years to come.
To get your summer project started, call us now at (301) 762-6621.