Homeownership is a wonderful and rewarding experience. And while your home choice was a great fit for your household when you purchased it, life changes over time might have you considering the need for more space. Adding on to your home is a big decision. As you think about your current or upcoming needs, here are the telltale signs that can help you determine if you need more space.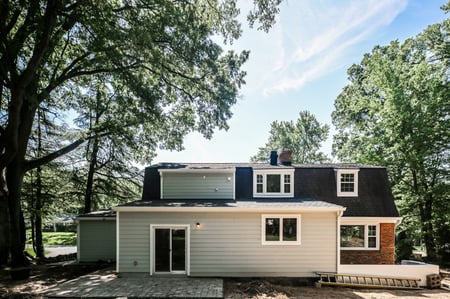 An addition isn't for everyone: Adding on to your home should honestly be a last resort. Additions are expensive, disruptive to daily routines, and can often last months. So, before you pull the trigger, the first thing you should do is to make sure you are maximizing your existing space.
Things are not like they used to be – many people don't use formal spaces like a living room or dining room in the traditional way anymore. It's OK to reconfigure the home for your personal use. For example, a dining room could become a home office or playroom. Or, you could divide up a living room if it's really big. Look at your home with a critical eye and ask yourself if you are effectively maximizing your existing square footage.
You really do need more space: You've done everything you can to get the most out of your space but you still need more. Now you have to determine what you need in an addition:

Is it a larger kitchen? A family room? More bedrooms?
Do you want everything on one level or are you willing to push up and add a floor?
Are there any restrictions based on your local building and setback codes?
And finally, how much additional square footage do you actually need?

Here are the top 5 to know about planning for an addition:

Start by checking the property address on your county's zoning webpage to determine zoning and setback restrictions. This will determine how big you can go and where you can build, in relation to your property. You don't want to start designing something and then find out that you can't build what you've envisioned. This is critical in any type of addition.
Next, create a rough sketch of the space you want to build to make sure that you can fit everything you are hoping to get into that space. This can be as simple as a hand drawing.
As mentioned in our June blog post on Materials Selection, create an idea book on Houzz.com. Start looking at pictures that reflect what you want to build and make notes on what you like and don't like.
A Houzz idea book enables you to:
Save photos to your Idea Book and make notes on each picture.
Use it as a hub to capture your likes and dislikes.
Define what you want and are trying to accomplish with the addition.
Specify what you want your space to become.
Create multiple Idea Books for different rooms in the addition.
Now, determine your budget. How much are you willing to invest and how much can you afford? Can you tap saved income or will you take on debt? Which financing option is best for you: home equity, a straight loan, or a refinance with cash out? And don't forget to look at current rates as your addition will be combined with your existing mortgage at current rates.
Finally, research and decide on the company you want to work with. A design/build company is often your best choice because you are dealing with a turnkey solutions provider that manages the design and construction all under one roof, which in turn helps keep costs lower and speed up execution.
What's the bottom line?
Find a company that has a strong reputation, integrity, and experience – including a proven remodeling process – that will guide you through the exciting experience of planning a home addition.
In a future blog post, we will explore the actual process of designing and building an addition.
Are you ready to have a conversation about how to get started? Call us today at (301) 762-6621!