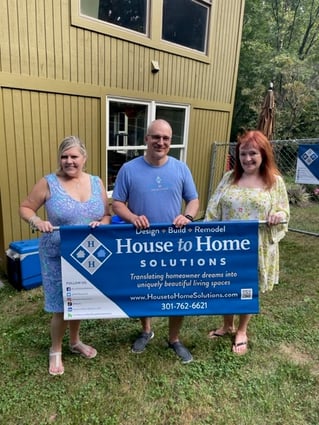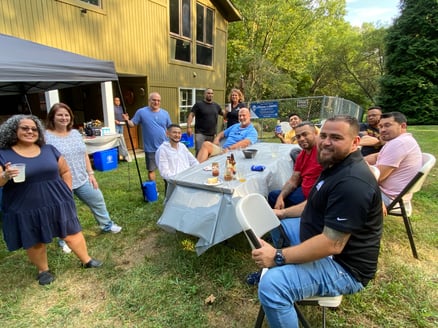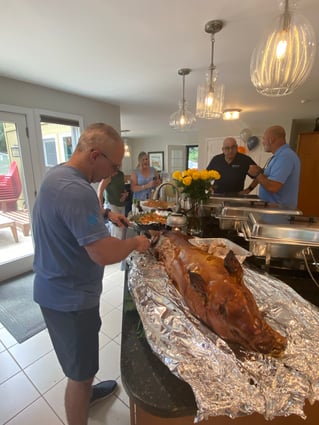 There's nothing like a good old-fashioned BBQ to bring everyone at H2HS and its partners together


September is a month we look forward to for many reasons: cooler weather as a respite from summer's heat, the beautiful beginning of fall with the start of leaf-color turning, and most of all, our annual Appreciation Barbeque for our employees and H2HS partners!
This year's event took place on September 8, when we welcomed more than 30 attendees to the home of Daniel Carrero, president of House to Home Solutions. Guests included our dedicated employees as well as many of our valued trade partners and vendors.
While the primary objective of this annual gathering is to express our gratitude to our employees and trade partners, it also offers a unique opportunity for us to build camaraderie, share experiences, and forge friendships beyond the confines of our work. Given the demanding nature of our profession, with its tight deadlines and budgets, such relaxed interactions with colleagues are a rare and cherished occurrence.
Noteworthy moments from the event featured a succulent whole roasted pig accompanied by an extensive array of sides and desserts. When the cook (Daniel's Mom) came down with COVID, Daniel stepped in and prepared the Cuban sides – black beans, yuca and mojo sauce – himself. Delicious!
As always, a slide show of completed projects was a big highlight. And, of course, no appreciation barbecue would be complete without an exciting raffle and prizes generously provided by our sponsors and H2HS.
Our sponsors for this year's event were:
Benjamin Moore
Regal Paint Centers
TW Perry
Lutron
Prizes for the event included:
Eight tickets to a Nationals baseball game at Nationals Park
Propane gas fire pit with speakers
Lutron Caseta smart lighting starter kit
Six Contigo beverage containers
Want to learn more about how we can help you bring your remodeling dreams to life? Visit us at House to Home Solutions or give us a ring at 301-762-6621.
---
More about this year's sponsors:
Benjamin Moore is a renowned paint manufacturer with a rich heritage dating back to 1883, dedicated to producing high-quality paints and finishes, offering a wide range of authentic colors, and distributing them through a nationwide network of independent retail locations.
Regal is a Maryland-based paint and decorating retailer specializing in premium, commercial, and industrial coatings and specializing in Benjamin Moore paints.
A founding and continued sponsor of the annual appreciation event, TW Perry is one of the leading building materials suppliers in the mid-Atlantic, serving the Washington, DC, and Baltimore areas and outlying suburbs.
Lutron is a leading technology company known for its innovative lighting and shading control systems that enhance energy efficiency and convenience in homes and commercial spaces.