Back-to-school sales typically start in mid-summer and are geared toward getting your little one(s) ready for school by offering discounts on clothing, school supplies, backpacks, and more. By now you're done with your shopping and your little one(s) are ready to head back to school armed with this year's best gear. But, have you stopped to ask yourself, is your home ready for the new school year?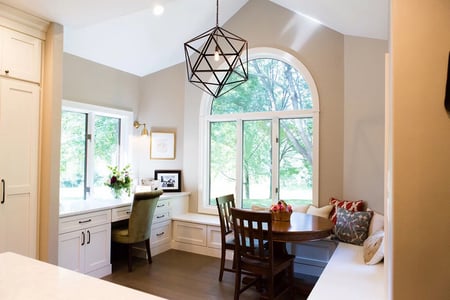 Here are four key questions to consider that will help you evaluate if your home is up to the challenge of a new school year:
Do you have a dedicated homework space for the kids? Should you consider a home office that could also serve as a homework area? Kids can do homework on the couch, the kitchen counter or the table, but ask yourself, is this the best space for them to do a great job on their schoolwork? A customer recently shared that during the pandemic they converted their garage into a classroom because her child needed a dedicated study space. Every morning they would walk out the front door, around the house, and come in through the garage door where they stayed until "school let out" at 3 PM. What does your child need to concentrate and succeed?
Are the fridge and pantry cleaned out, organized, and restocked? Do you need a new kitchen with better storage?


When was the last time you did an inventory of your refrigerator? Do you have healthy grab-and-go snacks for your kids and good-quality sources of hydration? When was the last time you cleaned out your fridge? Now's the perfect time to go through it and throw out expired items and get rid of junk food. It's also a great time to take inventory of your pantry and discard any old or unhealthy foods. Once you've cleaned and restocked, consider how much space you have and if it's enough for your family's needs. Could you benefit from a pantry system to help organize your spices and other dry goods? Here's something else to consider – many pantries, especially those that aren't walk-ins, lack adequate lighting. It's kind of hard to check how many cans of black beans you have if you can't see them!

Are the kids' closets organized and checked for clothing that fits? Should you consider a new closet system?


Similar to your pantry, when's the last time you went through your child's closet and pulled out all of the old, ill-fitting clothing? Once you've done that, evaluate their space needs. Does your child have enough clothes-hanging storage? Do they have a proper closet organization system? Could they benefit from some more shelves? And of course, how's the lighting in there?

Do you need a proper mud room for the kids to leave their stuff organized and in one place?


Mudrooms have enjoyed a resurgence in popularity over the last couple of years. Whether it's adding on to the existing laundry, building out a new room or carving out a niche somewhere, having a place to remove and store kids' jackets, boots, shoes, gloves, and hats, or just their backpack, is crucial. The alternative? You'll likely end up with a tornado of outer garments and packs strewn all over the house.
Key Takeaways
When thinking about the best space for your child, focus on what they need to be successful.
Evaluate the lighting in your pantry and closets and add more if needed. This could be as simple as battery-operated LED lights or a hardwired solution.
Organization systems can be a cost-effective way of increasing your pantry and closet storage space. Whether you choose a do-it-yourself option like Closet Maid from Home Depot or Elfa from the Container Store or a custom closet system, there are options to fit every budget.
Ensure you have a dedicated space for your little one to put on and take off their out-of-door items. This will save you the time, headache, and stress of yet another mess.
Many of these suggestions can be done yourself. But not everyone is a do-it-yourselfer. If you need help, look for a partner who understands the process and who has the integrity and reputation to really deliver what you want and need.
In our next blog post, we will examine the top tips related to Fall remodeling projects.
Want to learn how to get started? Give us a call at (301) 762-6621.